MORE THAN 25 YEARS IN OIL&GAS ALL OVER THE WORLD!
                       
HOW WE STARTED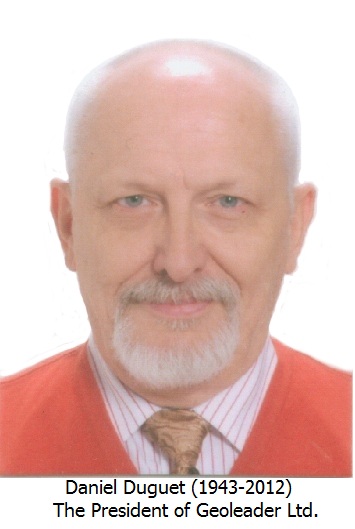 Geoleader Ltd. was established in 1999 with its headquarters in Moscow and its branch in Tyumen by the outstanding professional, Daniel Duguet.
He was born in 1943 in France. In 1966 Daniel Duguet graduated from the University of Scientific Studies (Universitaire d'Etudes Scientifiques) with a Master's degree in geological sciences. He climbed the career ladder in France and then founded the Geoleader in Russia. He became the President of Geoleader and had successfully ruled the company for 13 years.
Under his management Geoleader Ltd. had enetered the market of oil&gas industry and implemented various projects. Daniel Duguet contributed a lot in the extension and strenghthening of the international economic ties due to innovative technologies.
OUR MAIN ACTIVITY 
geological and geophysical services for oil and gas companies;

fully integrated solutions of data management for oil & gas companies and national organizations. We also provide training courses, support and maintenance of the data (Data Bank) management, etc.;

software development for quality control and processing of geological & geophysical data.
OUR ADVANTAGES

presently, we employ more than 60 high-level specialists (programmers, geophysicists and geologists) in the sphere of oil and gas production.

Geoleader ltd. has an exclusive right to commercialize products in some countries.

Geoleader ltd. is the unique developer and owner of the only one fully integrated Data Bank of exploration and production data PetroVision for national and corporate data repositories, and geological and geophysical software such as GeoTop (well log analysis and QC), GeOlympus (processing of static corrections and waves), GeoSeisQC (seismic data quality control and processing), GeoStore, GeoTIGG etc.

Geoleader Ltd. provides the software and hardware installation.

we have our own official training center. We offer courses on any software and methodology in the sphere of oil and gas production. Training courses are provided by our professional instructors according to a special tutorial program. Every trainee receives a certificate after finishing the course.

we have our own computing center equipped with modern hi-tech machines and hardware. This center meets all necessary requirements for data processing and interpretation.