Geovation is the benchmark software for seismic processing, imaging and reservoir characterization. It is a unified processing platform incorporating the latest technology from the recognized leaders in advanced imaging and wide-azimuth processing. It includes every aspect of seismic exploration and development in an interactive and interpretive environment supporting a comprehensive set of applications and batch modules.
Geovation has evolved from over 40 years of expertise in geophysical software and provides market-leading services to CGG clients worldwide.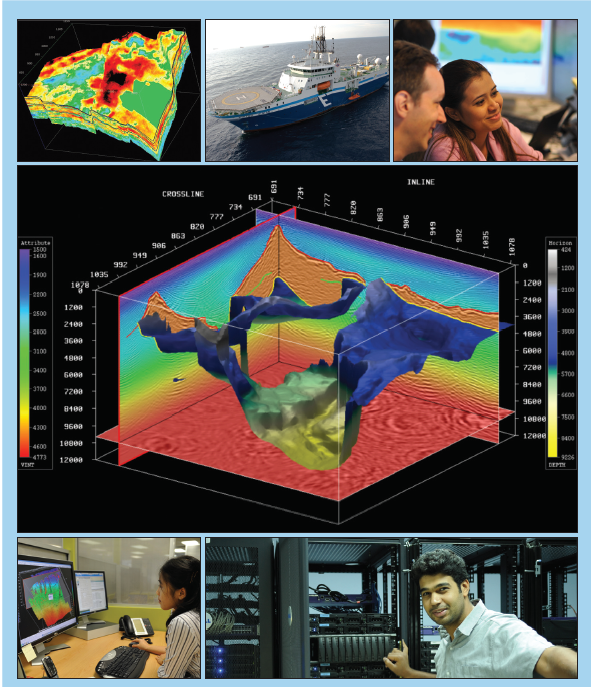 Geovation has a number of characteristics, including:
Comprehensive suite of seismic processing, imaging and reservoir characterization tools: Commitment to R&D provides state-of-the-art geophysical technology

    Over 400 batch processing modules
    2D, 3D, 4D and multicomponent, land and marine processing capabilities
    Full range of advanced applications for interactive processing and QC
Worldwide training provided by CGG University

Worldwide utilization by crews, vessels, processing and dedicated centers

Fully scalable from a single workstation to computing centre clusters

Architecture is proven by processing of massive wide-azimuth data volumes
The Geovation benefits (advantages) are to achieve the best-in-class processing & imaging results for all types of objects. This software is used a single solution for field, individual workstations and regional centers. The Geovation software is carried out by the strict engineered for reliability and quality. Effective high-quality processing is also one of the important advantages. The software uses proven technology with over 40 years of experience. Global presence provides worldwide support, local expertise and training.
The primary Geovation goal is developing to meet the rapidly growing demands of seismic processing, including the new generation of massive high-density wideazimuth datasets and the latest compute-intensive algorithms.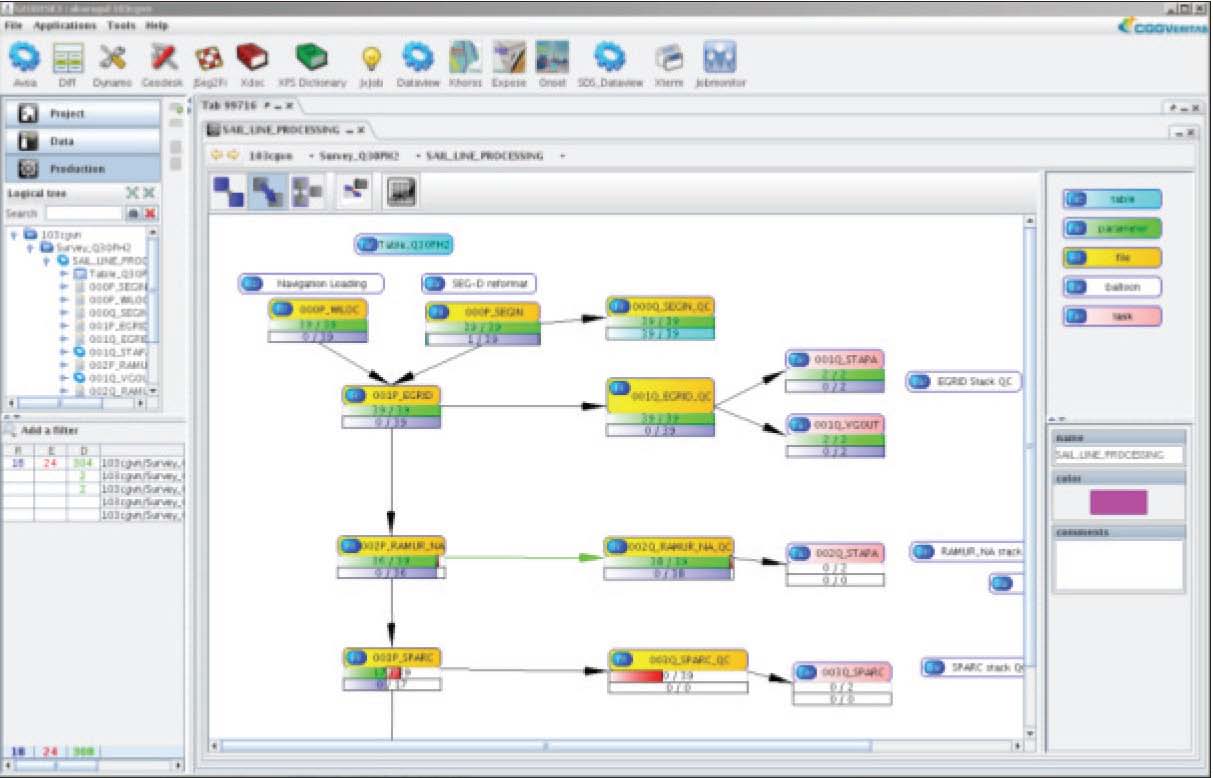 64-bit Linux platform supporting the latest IT technology and new generation of multi-core processors;

 Flexible storage infrastructure for handling petabytes of disk and tape storage
We have designed new database and interactive applications to handle QC and process terabytes of seismic data. This resulting capability gives you the power to compute intensive algorithms optimized for parallel processing.
Achieving the Geovation best-in-class results is defined by rigorously engineered for reliability, quality and usability in massive production environments. It brings together the latest in geophysical technology across the full spectrum of seismic processing and imaging to provide results which are consistently rated best-in-class by our clients. Geovation is also designed to interface smoothly with the renowned Hampson-Russell reservoir characterization suite to provide advanced seismic reservoir characterization solutions.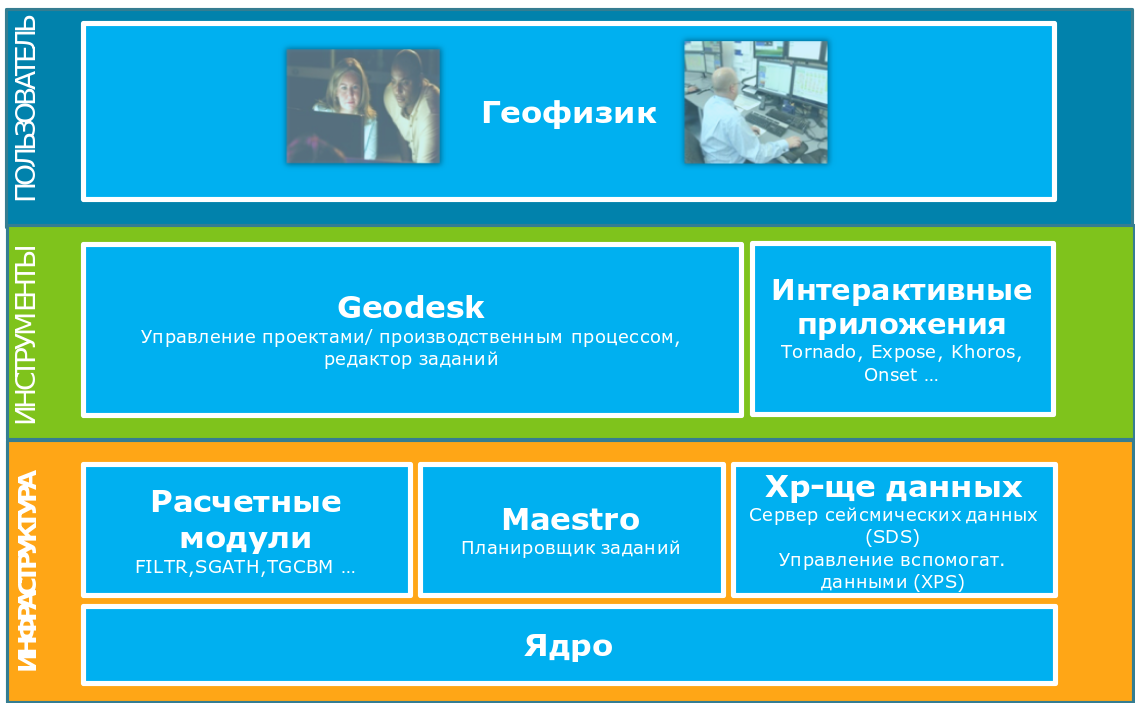 Geovation features an enhanced user environment which includes all the tools to deploy the latest geophysical technology on complex projects in an efficient and intuitive manner. This includes interactive batch job builders, workflow / project management and a range of fully featured QC applications:
 New geo-desktop user environment (Geodesk)

 Drag and drop job building and parameterization (Jxjob)

 Automated and intuitive workflow / project management (Geodesk)

 Fully featured seismic and auxiliary data management (SDS & XPS)
The CGG Tornado Velocity/Depth Model Building software offers a highly interactive environment with exceptional 3D visualization capabilities. The entire model building process of velocity picking and updating, structural updating and visualization is integrated into a single module within the CGGVeritas proprietary seismic processing software.
Tornado has been specifically developed to perform model building and velocity/depth model updating. The tools available within Tornado are constantly being updated and improved; those currently available include tomographic updating, aperture determination, geostatistical analysis and filtering as well as tools for velocity picking and horizon manipulation.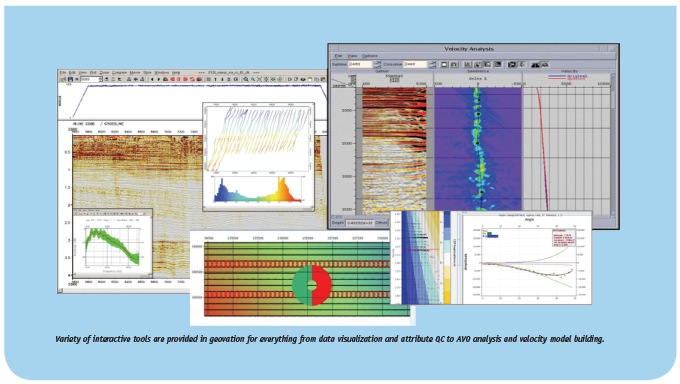 Varieties of interactive tools are provided in geovation for everything from data visualization and attribute QC to AVO analysis and velocity model building.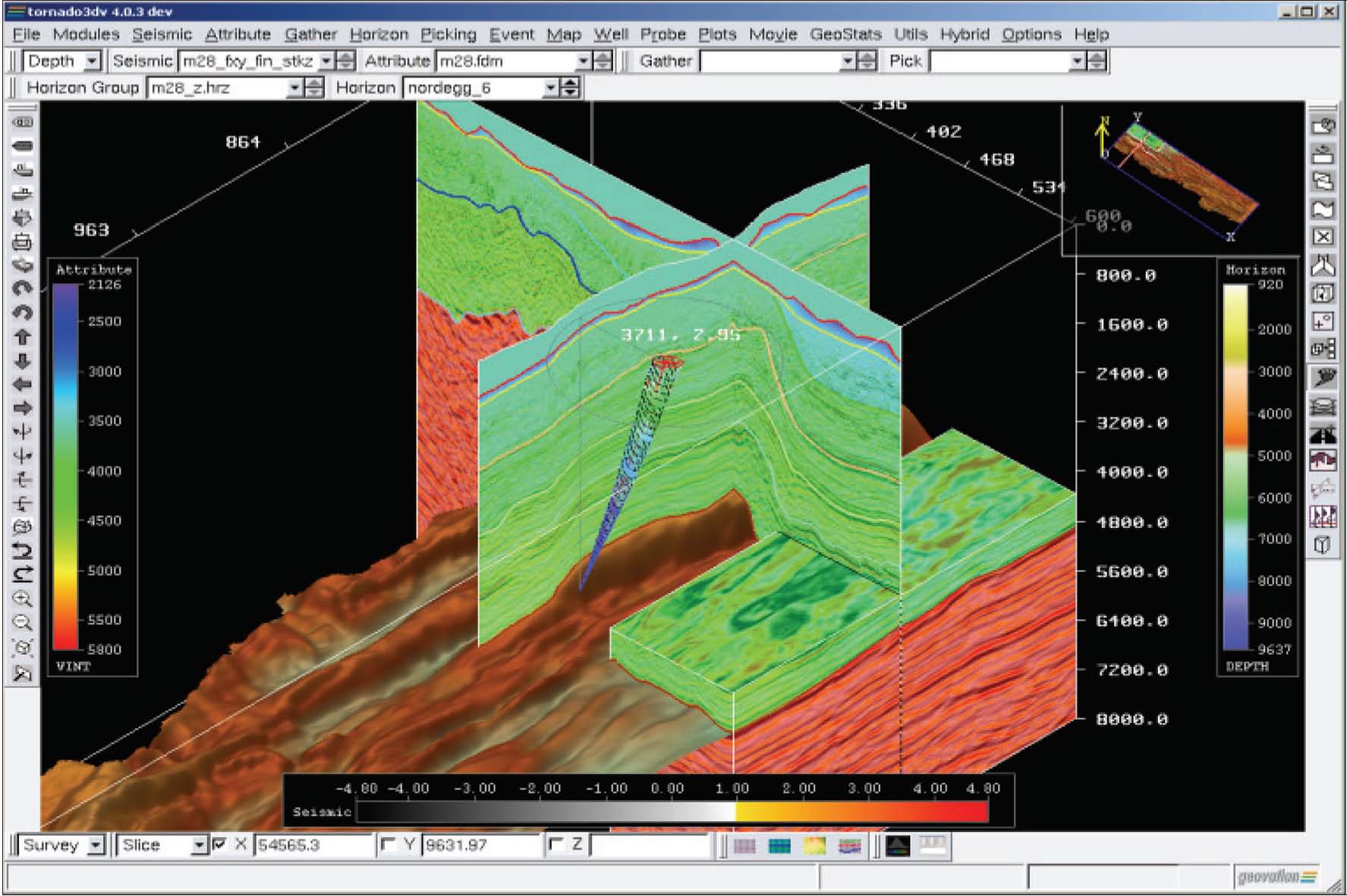 Example TORNADO displaying stack with velocity overlay on straight & curved slices and volume slab, along with a horizon surface, and a ray path query.
SCOPE
Efficient application of the latest geophysical technology

Comprehensive suite of over 500 modules, including: Clients can experience geovation in a variety of ways; remote QC performed using secure web access, licensed use of the software for processing and in-house fully-supported dedicated processing facilities. Beyond software sales and support, geovation provides a platform for collaboration between CGG and our clients.

 2D, 3D, 4D and multicomponent;
 Land, marine and seabed;
 Time, depth and reservoir processing capabilities
 Over 500 batch processing modules
 Full range of advanced interactive applications
Worldwide Headquarters
Paris (France) +33 1 64 47 45 00
Massy (France) +33 1 64 47 30 00
Houston (USA) +1 832 351 8300

Exclusive distributor in Russia
Moscow, +7 495 982 36 31
Tyumen, +7 345 231 56 07 info@geoleader.org